This book pioneered management concepts in museum conservation, for instance, collections condition surveys using random selection. Fully revised in 2002, it is still my best seller today.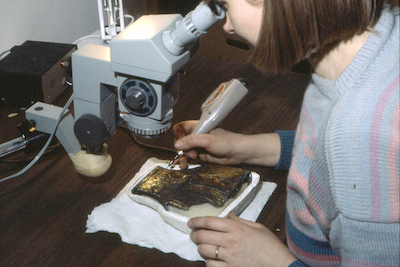 Image: Painstakingly cleaning the Anglo Saxon reliquary excavated in Winchester. But what about the thousands of other objects?
Arguing "Don't tackle the hard task piece by piece - take a systems view!" it shows how mainstream management techniques can be used to facilitate a holistic and professional approach to collections conservation and preservation.

---
Contents
1 Introduction
2 Museums, collections and people 3 Management and information
4 Management tools: quantitative planning 5 Management tools: options and priorities
6 A systems view of museums
7 The preservation system
8 Preservation
9 Collections condition
10 Directions and strategy
11 Planning and monitoring work
12 Conservation and digitization
13 Future, present, past