This newly published book analyses and researches what makes exhibitions enjoyable for visitors, questioning received wisdom on museum displays.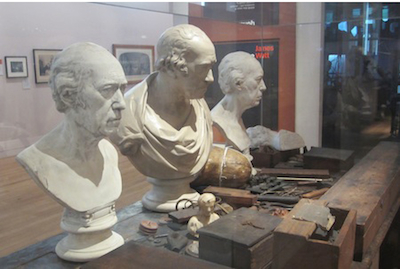 Image: A display in the James Watts workshop exhibition in the Science Museum.
We drew on the disciplines of architecture, design and cognitive science to understand what might make an exhibition engaging for the audience. Key concepts were assessed and tested in famous galleries in London museums.
This book will be invaluable to anyone working on exhibition projects - designers, curators, researchers. Downloadable forms are offered to use for your own in-depth evaluation.

---
Contents
1 Introduction
PART 1: EXHIBITING OBJECTS - THEORIES AND CONCEPTS
2 Architecture and space syntax
3 Design and design idioms
4 Cognitive science, flow and beauty
5 Museum studies: object biographies, learning styles, levels of interpretation
PART 2: FROM CONCEPTS TO PRACTICE
6 Testing the concepts in three London museums
7 Concepts and comparisons: the three galleries
8 Mummies, objects, visitors and stories at the British Museum
PART 3: BEYOND THE VISUAL
9 Hands on the past at the British Museum
10 Experiments with sound, colour and interaction
11 Sound, colour and interaction: what we learned
PART 4: EFFECTIVE EXHIBITIONS
12 Harmony in ancient Egypt
13 Reviewing the findings
14 Conclusions: effective exhibitions